The name Godby has been synonymous with service for decades in the Indianapolis Metro Area. Godby has always been known for HVAC (heating, ventilation, and air conditioning) and has expanded into plumbing and electrical services.
Being in business for almost 50 years brings more than gray hairs, it brings experience, top quality service, and pride in a job well done.
Uniformed techs, marked vans, background checks, drug testing, and continued education shows safety is a top priority with Godby.
We are and always have been locally owned, managed, and operated. We believe in relationships. You will know your Godby team members that help take care of your business.
With Godby HPE things run more efficiently on your end by offering you one vendor, one phone number, one name for all three trades.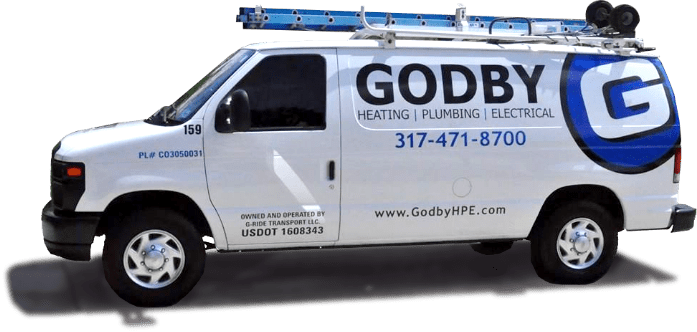 Being the best in our field means that we are committed to every project, we have ingenious ideas that become reality, and we make every client happy.
The team at Godby Heating Plumbing Electrical can help you with all three trades. Having only one vendor, one phone number, one name for accounting, communication, service, and maintenance means less for you to keep track of—freeing up time and making you and your business more productive.
Godby team members will always be in marked vans, uniforms, and have Godby credentials on at all times. Godby is licensed, bonded, and insured. All team members have had extensive background checks and are drug screened. Godby has strict safety policies that team members must abide by, or else!
Godby's team members are wicked awesome and continuously being educated so you don't have to be. Whether it is gaining new certifications in their trade, learning the latest in equipment and technology, attending leadership programs or safety workshops, our team members are always up to speed.
The Godby name has been serving Indianapolis and its surrounding areas for almost 50 years. Decades of experience, top notch service, and updated knowledge and education in the trades is why people know, "It's Gotta be Godby!" Godby offers you one vendor, one phone number, one name for all three trades.

Proudly serving Indianapolis and the surrounding areas!